Project: Corporate Rebranding
Goal: Rebrand HotChalk to better represent the corporate goals
Role: Worked with external branding agency and collaborated on creative direction; assisted in the website development
When I first joined HotChalk, the company had just gone through a rather substantial shift in direction. Unfortunately, the brand hadn't caught up with that change. In lieu of taking on this rebranding in-house with limited resources, I decided that the best course of action would be to outsource to an external branding agency that could take on the large workload and tight deadlines. We worked closely in developing the corporate mission statement, logo and brand guidelines, and a new corporate website presence. At one point, the CEO (who was very attached to the out of date brand) stepped aside while I continued working with the agency on execution. The result was a much needed corporate facelift for HotChalk which helped pave the way for future corporate investments.
Old Logo Design

New Logo Design
Once the agency had completed their branding and design work, I managed the development of the website internally so that we could determine and control the environment. In doing so, we were able to develop systems to easily maintain and update the website through the many additions, revisions and iterations its had over the years.
One large addition was the development of the HotChalk Partner Network. I designed and developed a new B2B page on the corporate website to support our partnerships team in securing additional business, nursing, and educational partnerships.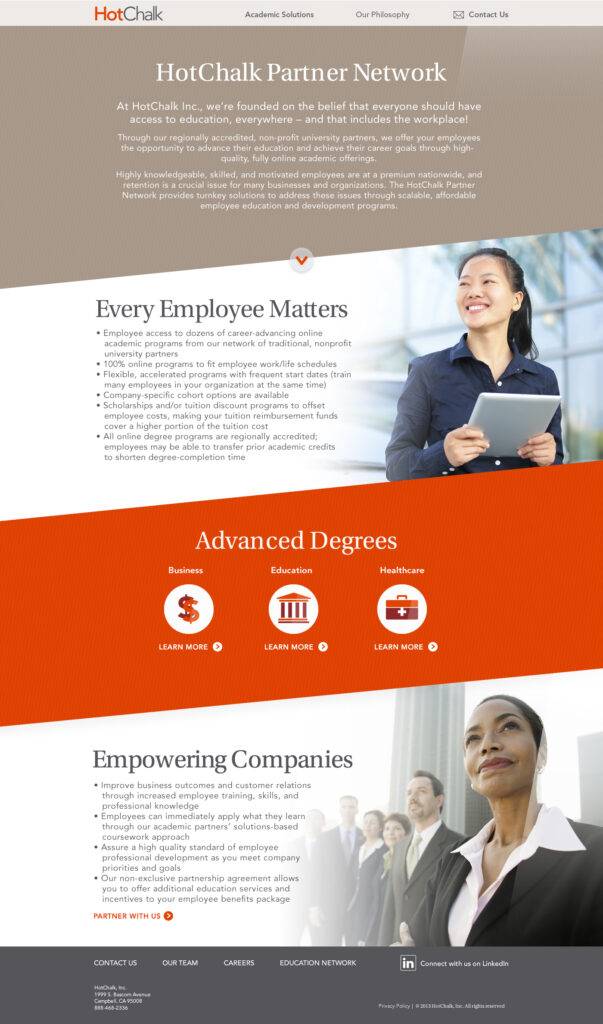 Additionally, I designed a new careers page, hosted by Jobvite that allowed the Human Resources department to post job openings on their own. I worked with Jobvite to ensure the website was developed as designed.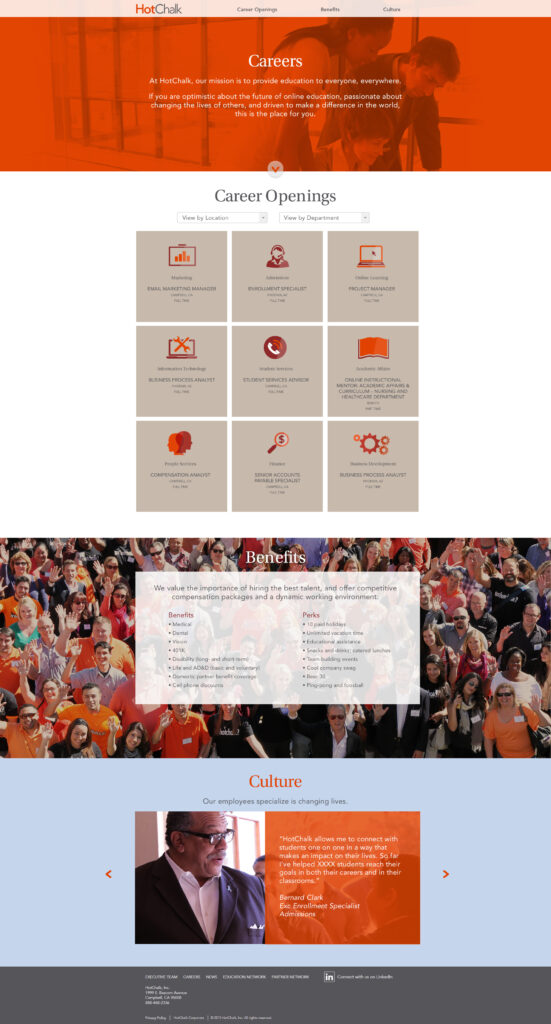 Branding efforts continued beyond digital and into print-based corporate marketing materials. One example, is a brochure highlighting the various HotChalk services offered to University Partners. This was created for the sales team as both a leave behind printed piece as well as a digital PDF that can be emailed.
A downloadable PDF is available here.